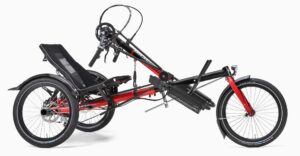 $10390
*Starting Price
HANDBIKE KETTWIESEL or LEPUS: Sleek, hand-powered delta trikes
Power in your hands! A recumbent trike with hand cranks for a magical mix of autonomy and adrenaline.
HANDBIKEs from HASE BIKES: Adaptive high-tech
​Be it a weekend ride in the countryside or a daily commute to work, the HANDBIKEs from HASE BIKES have what it takes to make mobility fun, ergonomic, and boundary-less. And with HASE BIKES' unparalleled range of adaptive accessories, each trike can be perfectly customized to the rider's needs and preferences.
At HASE BIKES, handcyclists can choose between the HANDBIKE version of the sporty KETTWIESEL or a laid-back LEPUS HANDBIKE with a higher seat. Both models are delta trikes with one wheel in front and two in the back. This geometry makes them not only wonderfully nimble but also incredibly stable.
The HANDBIKE comes with a beautifully engineered hand-crank assembly that efficiently transfers the power from your arms to the wheels. The adjustable leg supports offer comfortable stability and protection for the lower body.
One advantage of recumbent trikes: easy mounting
A delta trike is practically untippable when parked. The seat is also the perfect height for easy transfer from a wheelchair. For mounting and dismounting, the hand-crank assembly is folded forward and out of the way. And like all HASE BIKES components: it can be perfectly adjusted to the size and preferences of the rider.
One advantage of rear-wheel drive: more grip on the ascents
Thanks to rear-wheel drive, HANDBIKES have such great traction that even riding uphill is fun. If you plan to take your trike to the trails, a differential is an indispensable accessory. It transfers the power to both rear wheels. And if you're looking for even more luxury on hilly routes, there's always the e-motor option.
Pedaling, shifting, braking: all at your fingertips
Actually, the design of the HANDBIKE is much like any other bike: the shifters and brake levers are mounted to the handgrips. The difference is that these grips also function as hand pedals. Sounds a lot like multitasking, but the controls are actually very easy to learn.
The hand cranks are available in two different sizes: 174-millimeter and 150-millimeter. This helps adapt the HANDBIKE to the rider for perfect ergonomics.
Features
Very agile 
Excellent safety and stability 
With Differential: improved traction 
Easy transfer from wheelchair to trike 
E-motor option
Specifications
| | |
| --- | --- |
| Total length | 63″-81″ (160-205 cm), without front wheel 54″ (137 cm) |
| Total width | 34″ (86 cm) |
| Total height | 37″ (95 cm) |
| Turning circle | left 10'10" (3.30 m), right 11'6″ (3.50 m) at mean length adjustment |
| Seat height | 18″ (46 cm) |
| Pack size | 63″-81″×21″×34″ (160-205×53×86 cm) |
| Wheelbase | 46″-64″ (116-162 cm) |
| Frame/fork | 7046/7005 aluminum |
| Front boom | 6061-T6 aluminum |
| Max. load | 308 lb (140 kg) |
| Weight | 46 lb (24 kg) |
| Folding mechanism | none |
| Brakes | Rear: Tektro Auriga Twin hydraulic disc brakes with integrated parking brake, Front: Avid BB7 mechanical disc brake with parking brake lever |
| Wheels | 20″, Hub: HASE BIKES Quickstick (rear), Rims: double wall with eyelets, Spokes: Sapim, Tires: Schwalbe Big Apple 55×406 (rear), Schwalbe Marathon 47×406 (front) |
| Gears | Shimano Nexus Premium 8-speed internal gear hub with twist shifter with Mountaindrive |
| Hand crank | HASE BIKES 174 mm |
| Drive system | Differential |
| Lighting system | Hub dynamo: Shutter Precision, Taillight: B&M Toplight Flat Plus, Headlight: AXA Pico 30-T Steady Auto, LED, standlight |
| Color | RAL 3002 Carmine Red matt/powder-coated |