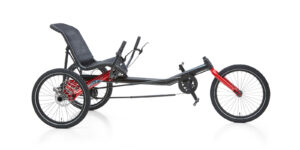 $3350
*Starting Price
TRIGO NEXUS: The starter recumbent trike with a professional gear hub.
The NEXUS 8-speed gear hub with Shimano's shift servo technology delivers smooth and crisp shifting with our versatile cornering whiz.
Recumbent plus delta trike = safety, stability, and agility all rolled into FUN
Like its KETTWIESEL cousin, the TRIGO NEXUS has a low seat between its rear wheels for extreme stability and a single wheel in front for outstanding agility.
The modules: lightning fast adjustments
"Can I try?" On the TRIGO NEXUS, you'll hear this question a lot, and it's a great chance to show off the trike's flexibility. The modules of the delta recumbent trike move along guide rails and are infinitely adjustable without tools. As a result, the recumbent TRIGO can be quickly adjusted to a new rider, provided that the rider is between 4'7″ and 6'7″ in height. And provided that you're willing to share.
For the length adjustment, all you have to do is open a lever and slide the seat into the appropriate position. No need for tools and no need to shorten or lengthen the chain!
The TRIGO NEXUS even has adjustable handlebar grips: both the angle and width are adjustable, ensuring that every rider can enjoy the perfect hand position for steering, grip-shifting, and braking. And last but not least, the seat tilt can be set to your preferred position using a quick release mechanism.
The extras: accessories for everyday use
Once you've experienced how sporty you can be in a comfy, recumbent seat, you'll be hooked. And if you plan on using the TRIGO NEXUS for more than simply sports and fun, then be sure to check out the wide range of recumbent trike accessories. For example, the ROLLER RACK, ROLLER BAG, and FOLDABLE FAIRING are all extremely practical for everyday use. The same applies to the SHIMANO STEPS mid-motor, which can be retrofitted to the TRIGO NEXUS in a few simple steps.
Features
Modular design
Flexible and easily adjustable
Superb agility
Low center of gravity for safety and stability
E-motor option
Specifications
| | |
| --- | --- |
| Total length | 70½"-82″ (179-210 cm), w/o front wheel 61″ (155 cm) |
| Total width | 32″ (83 cm) |
| Total height | 38″-42″ (98.5-106.5 cm) |
| Seat height | 23″-26″ (58.5-66.5 cm) |
| Bottom bracket height | 12½" (32 cm) |
| Wheelbase | 50″-63″ (129-160 cm) |
| Frame | 6061 aluminum |
| Fork | Aluminum |
| Max. load | 309 lb (140 kg) |
| Wheels | 20″ |
| Brakes | Promax DSK300 mech. disc brakes, forged aluminum brake levers with locking mechanism |
| Tires | Kenda 58-406mm with reflective sidewalls and puncture protection |
| Gear system | Shimano Nexus Inter-8 Premium hub |
| Crankset | Samox, 155 mm, 50/39/30 T |
| Lighting system | none |
| Weight | 47.4 lb (21.5 kg) |
| Color | RAL 9005 Jet Black gloss, RAL 3002 Carmine Red gloss / powder-coated |