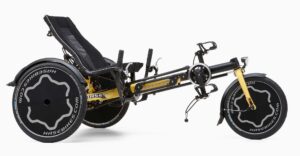 $6269
*Starting Price
Happiness with handlebars: TRIX, the adaptive wonder-trike
As a super-sporty recumbent trike, the TRIX has changed adaptive cycling from awkward to awesome.
What's cooler than two speedy wheels? Three!
If you want to move forward, just put up your feet and lean back in your seat. Sounds like a paradox, but it's just TRIX. A recumbent trike with a low center of gravity, the TRIX is so stable and agile that even riders with severe disabilities won't have any problem leading the pack – and looking effortlessly cool while doing so. The TRIX may not be able to move mountains, but it can ride around them, and triking over them is pretty fun too.
What do fun and safety have in common? The TRIX!
There's no place like home. Maybe. If you're 80 or a computer nerd. Otherwise, it's always more fun to be out and about with your friends. The TRIX is well-equipped for those times: with its high-quality disc brakes and special children's brake levers. If needed: the optional fixed gear helps you keep the rhythm with your pedaling.
As a recumbent trike, the TRIX is also particularly intuitive to ride because you can see your legs while you're pedaling. This makes all the difference in the world. To make sure the rider's feet are held securely in place, the pedals are equipped with toe clips and straps. Pedals with calf support, along with many other adaptive accessories, are also available. Other options: hydraulic coaster brake and single-hand controls.
What's almost as fun as riding the TRIX? Sharing it!
No disability, no TRIX? Nonsense. There's nothing like watching your friends' faces when they take their first spin. If the height difference isn't too great, the TRIX can be adjusted in a flash, thanks to the high-tech quick-adjust mechanism. In general: anyone between 4'1″ (1.25 m) and 6'3″ (1.9 m) in height can ride the TRIX.
What else can you do with the TRIX? Hang out, for example. The comfy seat feels like a hammock when you're chillaxing with friends and philosophizing about life, the universe, and the wonders of YouTube. The parking brake keeps you right where you want to be.
Features
Very agile, smooth-riding
Excellent safety and stability thanks to low center of gravity
Ergonomically designed for kids
Ideal as an adaptive trike
E-motor option
Specifications
| | |
| --- | --- |
| Total length | 63″-81″ (160-205 cm), without front wheel 54″ (137 cm) |
| Total width | ​34″ (86 cm) |
| Total height | ​31″ (80 cm), with seat folded down: 21″ (53 cm) |
| Turning circle | Left 10'10" (3.30 m), right 11'6″ (3.50 m) at mean length adjustment |
| Seat height | 18″ (45 cm) |
| Bottom bracket height | 16½" (42 cm) |
| Pack size | 63″-81″×21″×34″ (160-205×53×86 cm) |
| Wheelbase | 46″-64″ (116-162 cm) |
| Wheelbase | 46″-64″ (116-162 cm) |
| Frame | 7046/7005 aluminum |
| Fork | 16″ aluminum |
| Front boom | 6061-T6 aluminum |
| Max. load | 308 lb (140 kg) |
| Weight | 46 lb (21 kg) |
| Height of rider | 4'1″-6'3″ (125-190 cm) |
| Suspension | none |
| Folding mechanism | none |
| Brakes | Avid BB7 mechanical disc brakes with children's brake levers, parking brake mechanism. |
| Wheels | Rear: 20″, Hubs: HASE BIKES Quickstick, Rims: double wall with eyelets, Tires: Schwalbe Marathon 47×406, canvas spoke protectors with 3M reflective print; Front: 16″, Hub: HASE BIKES, Rim: aluminum, Tire: Schwalbe Big Apple 50×305, Spokes: Sapim |
| Gears | Shimano Nexus Premium 8-speed internal gear hub with twist shifter |
| Crankset | 140 mm 32 tooth |
| Pedals | Pedals with Toe Clips and Straps (adult size) |
| Fenders | SKS black matte |
| Lighting system | Battery light – B&M front Lumotec IQ Eyro, rear Toplight Flat S permanent |
| Color | RAL 1018 ZInc Yellow matt/powder-coated |