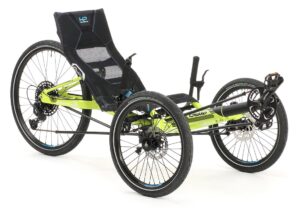 +++++ Model currently not available. Expected to be available again from November 2022 +++++
Enjoy Triking the Easy Way
Gekko 26 – the Starter Package for Your New Triker Life
Are you looking for an attractive recumbent trike – without becoming too immersed in all the technical details of the tricycle world? Then our affordable recumbent trike Gekko 26 is a perfect choice: clear lines, raised seating position, no compromises in equipment and easy to buy
With the Gekko 26, our engineers have fundamentally re-imagined the tricycle philosophy of HP Velotechnik. The aim was not only to achieve a higher seating position on an affordable laid-back adult trike. Above all, our engineers wanted to implement the typical, sporty and precise driving dynamics of our Tadpole trikes with the two steered front wheels in a very price-sensitive environment. In other words: A great trike also for those who have to work on a tighter budget.
Essentially Focused
Radical Thinking Requires Consistent Concepts
Two essential features are the main reason why the frame construction of HP Velotechnik's trikes is very labor-intensive: First and foremost the driving characteristics, which are achieved above all by the ingenious geometry of the front wheel steering, and which have a decisive influence on the driving experience. We will not change that! Thus, the Gekko 26 does without our second design refinement: the patented folding technology. In one respect, this even gives you an advantage: the stronger frame can carry up to 150 kg (331 lbs), which is more payload than the foldable models.
Keep it simple. In order to avoid making our entry-level trike a budget buster, we have limited another element of the HP Velotechnik philosophy for the Gekko 26 essentials – our modular system.

You can configure the drivetrain, the brake system and other technical components in several hundred thousand variants of almost all other two- and three-wheelers that we custom-made for you in our recumbent factory in Kriftel, Germany. The option list for the Gekko 26 is concise and convincing.
Ready to Drive!
Practical Equipment Requires No Compromises
Each Gekko 26 is equipped with a fixed, rock-solid component specification. For us, rock-solid means: 12-gear drivetrain SX Eagle from Sram, hydraulic disc brakes from Shimano, tires from Schwalbe and of course a tried-and-true powder coating.
Handy? Surely! We have many useful and convenient accessories for your Gekko 26. Be it our special carriers, mudguards, headrests or rear-view mirrors and lighting systems – your dealer will be happy to complete your Gekko 26 to satisfy your needs. So you will soon be at the beginning of your beautiful new Triker life!
Clear lines: The solid frame construction of the Gekko 26 combines safe road holding with sporty handling, precise steering, low weight and outstanding acceleration. With the highest sitting position
in the Gekko class, the adjustable handlebars and the elegantly forward-bent frame cross-members positioned
close to the seat this recumbent trike ensures easy entry and exit.
Built-in elegance: The purist look of your Gekko 26 is enhanced by the Flash design, which was specially developed for our frames. The large tubes of the main frame and the strikingly shaped rear section have inspired the design of the graphics: The flash-like design with lighter and darker variations of the basic color makes your Gekko look even more dynamic.
Smiles for everyone: The US-Edition Gekko models not only combine HP Velotechnik quality with an attractive price but also give you several feature-packed setup levels to choose from. To top it all off and set you smiling and riding as soon as possible, we keep these US models ready for immediate shipping with our logistic partners in the USA.
Three configurations were carefully selected to meet the specific preferences of American recumbent enthusiasts. You can choose between sport-oriented, performance-driven or comfort-focused components for our US Gekkos.
Specifications
| | |
| --- | --- |
| Seat Height | 38cm (15″) |
| Seat Angle | 39–47° |
| Wheel size (front wheel) | 20″ (ISO 406) |
| Wheel size (rear wheel) | 26″ (ISO 559) |
| Max. tire width | 5 cm (2″) |
| Bottom bracket height | 40 – 49 cm (15″ – 19.3″) |
| Ground clearance | 18,5 cm (7.3″) |
| Wheelbase | 109 cm (42.9″) |
| Track width | 78 cm (31″) |
| Vehicle Width | 83 cm (33″) |
| Vehicle Length | 175–210 cm (5'9″ – 6'10") |
| Vehicle Height | 83 cm 32.7″ |
| Handlebar width | 58 cm (22.8″) |
| Turning circle | 4,70 m (15'5″) outward |
| Standard color | Lime green |
| Bottom bracket standard | BSA 68 mm |
| Weight | from 16,9 kg (37 lbs) incl. pedals |
| Payload | 150 kg (330 lbs) |
| Frame material | Aluminum 7005 T6 heat treated |
| Rider height | ca. 1,60 – 2,00 m (5'3″– 6'6″) |