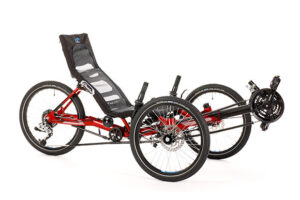 $3960
*Starting Price
+++++ Gekko US models currently not available. Gekko 26 expected to be available again from Spring 2022, Gekko fx models from end of 2022. +++++
The Nimble Fast Folding Trike
Gekko fx 20: From Compact Size to Full Riding Pleasure in Ten Seconds
Time for a change of perspective. With the Gekko fx 20, a small change in attitude offers great new prospects. Sit back and relax in the comfortable seat. Raise your legs casually. Enjoy the panoramic view. Plenty of riding pleasure ahead of you! And the best about it: It's a folding trike.
Speeds up not only your heart rate: The Gekko fx 20 remarkably unfolds into a good deal of riding pleasure. To enable you to carry the Gekko fx 20 quite compactly wherever you'd like to go, the engineers at HP Velotechnik have equipped the foldable version of their nimble touring trike with an amazingly fast, easy-to-operate, sophisticated folding system.
Completely Compact
Folding Trike with a Unique Twist
Particularly useful: All components remain mounted on the trike – unlike conventional folding trikes, in which the seat, wheels or rack must be removed first and transported separately All this is made possible by HP Velotechnik's patented Dual Flat Fold (D.F.F.) folding system, which uses only two quick-release levers for the Gekko fx 20. With little practice, you can fold your Gekko fx 20 into a compact size of 83 x 52 x 82 cm (32¾ x 20½ x 32 1/3″) in ten seconds.
Your advantage: After the swift folding, the package can be parked vertically to save space. So you can carry it easily in winding staircases or through train doors. On the platform, you simply wheel the folded Gekko fx 20 on its integrated transport wheels.
Cunning design: The solid frame construction of the Gekko fx 20 combines safe road holding with sporty handling, precise steering, low weight, and minimal space requirements. The frame cross member, which is bent far back and positioned close to the seat, and the robust, angle- and width-adjustable handlebar ensure easy entry and exit. In addition to innovative bicycle technology, the Gekko fx 20 also benefits from many years of tricycle construction experience of the expert engineers at HP Velotechnik. Tough and with a lot of traction, your Gekko fx 20 is your faithful companion in everyday life and when traveling.

Out in Front for Connoisseurs
Your Gekko fx 20 Shows Ergonomics at It's Best
Finally, a cycle on which you'd like to remain seated for another round after the tour. Finally, a cycle on which you'd like to remain seated for another round after the tour. In terms of ergonomics, your folding trike Gekko fx 20 is far superior to conventional upright bikes. Instead of balancing your whole body weight on a small, hard saddle, lean back comfortably in the wide mesh seat. The incline of the anatomically shaped backrest can be variably adjusted. It offers pleasant back support and relieves your spine. Relax: You can simply forget about an aching bottom, numb private parts, aching spinal discs or a stiff neck.
To make it easy for you to get in and get out the frame cross member that connects the front wheels is bent backward in such a way that you can put your feet securely on the ground close to the seat. Smaller
riders will appreciate the built-in, extra wide heel clearance of the Gekko fx 20.
In the recumbent position you spare your knees when pedaling and can systematically regulate the stress of the muscles during fitness training. The sporty pedal position of the Gekko fx 20 enables an optimal power support in the seat and gives you a streamlined, fully relaxed posture. Due to the open upper body posture, constricting pressure on the abdomen and your organs is avoided. Instead, the lungs can fully enlarge and bring your cardiovascular system to full capacity. Learn fast on the Gekko fx 20: Riding pleasure is the best heart rate accelerator!
Smiles for everyone: The US-Edition Gekko models not only combine HP Velotechnik quality with an attractive price but also give you several feature-packed setup levels to choose from. To top it all off and set you smiling and riding as soon as possible, we keep these US models ready for immediate shipping with our logistic partners in the USA.
Three configurations were carefully selected to meet the specific preferences of American recumbent enthusiasts for our US Gekko fx 20 models. You can choose between sport-oriented, performance-driven or comfort-focused components.
Veterans looking for independence, well-being, and quality of life should get in contact with their local VA Medical Center. Learn about possible funding and opportunities for health and healing through adaptive sports with an HP Velotechnik trike!
Facts and Figures
Specifications and Technical Data
The outstanding ride of our nimble tadpole trike is of course based on thoroughly engineered performance technology with precise technical specifications. The detailed figures can be found here in the technical data sheet – from the dimensions to the payload, from the seat height to the appropriate rider size. And of course, we are also happy to show you which colors you can choose for your Gekko fx 20.
| | |
| --- | --- |
| Seat height | 35 cm (13.7″) |
| Seat angle | 39–47° |
| Wheel size (front wheel) | 20″ (ISO 406) |
| Wheel size (rear wheel) | 26″ (ISO 559) |
| Max. tire width | 5 cm (2″) |
| Bottom bracket height | 38–48 cm (15 – 19″) |
| Ground clearance | 13 cm (5 1/8″) |
| Wheelbase | 100 cm (39 1/3″) |
| Track width | 78 cm (31″) |
| Width | 83 cm (33″) |
| Length | 165–197 cm (65 –78″) |
| Turning circle | 4,25 m (14´) outward |
| Folding size | 83 × 52 × 82 cm (32¾ x 20½ x 32 1/3″) |
| Standard color | Magma red, Magma red |
| Bottom bracket standard | BSA 68 mm |
| Weight | from 15,8 kg (35 lbs) incl. pedals |
| Payload | max. 130 kg (286 lbs) |
| Frame material | Aluminum 7005 T6 heat treated |
| Rider height | ca. 1,60 – 2,00 m (5'3″– 6'6″) |
| | |
| | |