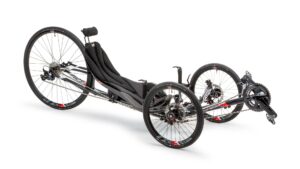 $7150
*Starting Price
ICE VTX – THE ULTIMATE RACING RECUMBENT TRIKE
FAST-LIGHT–SLEEK-DARK-INTELLIGENT
A perfect blend of performance, dynamic handling and comfort coupled with stunning looks and detailing to create the ultimate trike. With the lowest seating position of all our trikes, the VTX delivers superior performance guaranteed to put a smile on your face. A dynamic matt black colour scheme and custom graphics make the VTX look as good as it rides.
The VTX is the trike you need if you like to go fast. Sleek, lean, and finely tuned, the ICE VTX delivers superior performance for the most exacting rider. Super-charged with technical expertise and specialist knowledge, the ICE VTX is a different breed of recumbent trike.

The VTX now holds Two World Records for fastest trike in the WUCA 100km and 100m outdoor solo male trike class. Jochem Leemans from the Netherlands set a blistering average speed of 25.72mph for 100km. That's very fast! And not forgetting the VTX was the fastest trike in its class, winning the prestigious world human powered vehicle championships (WHPVA) for two years running.
This demonstrates the winning pedigree of our world class flagship VTX performance trike, and is also underpinned by our whole range of trike models. Every stage; from trike design, specification of components, the build and assembly, with rigorous attention to detail, gives you the peace of mind you'll be riding the best performing range of trikes in the world. All backed up with our 10-year warranty and enviable reputation.
VTX FEATURES
NATURAL HANDLING
An optimised cruciform and one piece handlebar provide stability and nimble handling no matter what the speed.
Fitted with indirect steering for natural, intuitive handling from the first ride. As pace increases handling remains controlled, predictable and light, even when taking tight corners. The steering system dissipates vibrations and shock before they reach your hands to give a comfortable and safe feel, even at high speed.
ICE's no brake steer geometry keeps braking forces independent of steering control, so the steering of the trike is not affected by braking at speed, uneven braking or cornering.
AERODYNAMIC PROFILE
A low seat position and recline angle as little as 25° minimises frontal area and reduces aerodynamic drag.
LIGHTWEIGHT BY DESIGN
Carefully considered design and specialised components, such as a lightweight boom and carbon fibre seat, brings the VTX in at just over 30lbs.

Beautifully sculpted, the hydroforming process gives the rear frame optimal strength and stiffness while remaining lightweight.
DURABLE ELEGANT OPTIMISED FRAMES
Our frames are designed to respond to the forces of the rider and road. Every element of the VTX frame has been engineered to complement the other, giving ICE trikes their famed riding characteristics.

Each frame is made from the finest aircraft-grade heat-treated 4130 Chromoly steel and 7005 T6 heat-treated aluminium. Chromoly steel is used in the centre frame cruciform section for the perfect combination of strength, fatigue resistance and vibration absorption. Aluminium is used in the rear hydroformed frame and front boom because it is strong, lightweight and absorbs dynamic forces while ensuring maximum power transfer.
 
All frames are powder-coated for a beautiful durable showroom finish, whilst other components are anodised for durability.
700C CUSTOM RACE WHEEL SET
The VTX and the Sprint X share the same race wheel set. The black state of the art, custom lightweight race wheels are lighter than the previous wheels. They are more aerodynamic in having a modern aero section profile.

They feature a 700c rear wheel and are tubeless ready as standard to save even more weight. Available in; reliable low maintenance drum or powerful lightweight disc brake options.
ICE AIR-PRO SEAT
The VTX is fitted with the ICE Air-Pro carbon fibre seat as standard. The seats are handmade from carbon fibre in-house by our master craftsmen and provide exceptional stiffness with minimal weight, weighing in at 1.1kg.
The Air-Pro shell is an anatomically contoured shape which is available in two sizes (medium & large). The shell supports the rider through aggressive cornering and provides a firm brace to pedal against while flexing where appropriate for comfort. Our Rider Positioning System allows you to tailor the trike to you. The shell has incorporated wings unlike most of its competitors, which reduces weight and increases efficiency.
EASY ACCESS SWEPT DESIGN CRUCIFORM
The VTX features our easy access swept cruciform, creating improved heel clearance while pedalling and making it easier to get on and off the trike.
VTX TECHNICAL DATA
| | |
| --- | --- |
| Overall width | 29.5″ (750mm) |
| Overall height | 27.2″ (690mm) |
| Overall length | 80″-90.2″ (2030mm-2290mm) |
| Seat height | 5.9″ (150mm) |
| Seat angle adjustment | 25-32 degrees |
| Turning circle | 24′ 3″ (7.4m) |
| Rider weight limit | 230lbs (104kg) |
| Overall weight (from) | 30.4lbs (13.8kg) |
| Rider size (X-seam) | 37″-48″ (940-1219mm) |
| Track width | 27.5″ (700mm) |
| Ground clearance (ride height adjusted) | 2.6″ (65mm) |
| Wheel base | 48″-49.2″ (1220mm-1250mm) |
ICE VTX models include as standard: ICE Air-Pro Seat with neck rest, compact flat twist frame, powerful disc brakes and Schwalbe One tyres. You can also choose options to personalise the fit of your trike, from our choice of seats and crank lengths. Pictured above with optional equipment.
GEARING
The ICE VTX is available with three different options of derailleur gearing. Deore, Shun and Ultegra. Derailleur gears are light, efficient and ideally suited to faster riding performance trikes. They are available in different options, to suit the conditions you expect to ride your trike in and your budget.
SEATING
The VTX is available with the Air-Pro carbon fibre seat. It is handmade in-house by our master craftsmen. It is a lightweight form-fitting seat which is stiff and strong, providing excellent power transfer and making sure everything you put into the pedals makes it to the road. Available in two sizes, medium and large, to suit different riders. It is finished with a foam core fabric cover, tuned for maximum comfort while keeping the weight low and the feel of the seat sporty. A neck rest is included with all Air-Pro seats.
BRAKE OPTIONS
There are two main types of brakes available on the VTX trike; drum brakes and optional disc brakes. Both brake types will stop the trike well and have advantages and disadvantages. Drum brakes are reliable, low maintenance and aerodynamic, long-lasting brake shoes can go tens of thousands of miles between replacement. They are also slightly smoother in operation. Disc brakes have more outright power than drum brakes and are lighter weight. The trade-off for this extra power and lower weight is more frequent maintenance and slightly worse aerodynamics.
SINGLE HANDED CONTROLS OPTIONS
ICE Trikes as standard come with the braking and gearing controls fitted to both handlebars. Optional single-handed controls help riders who have limited use or no use of one hand or arm to ride. You can specify controls are fitted to either the left or right handlebars. This enables the trike to be safely controlled from either side. Shown here on the Adventure for illustration.
SHORT CRANKS OPTIONS
We also have short crank chainsets available for riders with shorter legs or with knee or hip issues. These are 152mm rather than the more standard 170mm. Short cranks reduce the size of the circle that your foot tracks through the pedal rotation and by doing this they reduce the range of angles that your knees and hips go through.
ON THE ROAD PACK
The VTX is available with the on the road pack includes all you need to get on the road: a Rear mudguard, Shimano XT SPD touring pedals, Mirror and ICE flag. A comfortable neck rest is included with the Air-Pro seat.